Description
Oxygenated Water Plant、Equipment Machine
This rich oxygen filling water of oxygen-enriched water can be applied in water, mineral water, beverage, aquaculture, medical, chemical industry etc.
Product Description :
Product Introduction :
Oxygen rich purified water is called superoxide living water, drinking oxygen enriched pure water, oxygen can be directly transported through the blood to the brain and parts of the body. It has the characteristics of fatigue reduction, quick recovery of exercise, stamina and memory enhancement. When the common water including tap water and air oxygen reaches equilibrium, the amount of dissolved oxygen in water is about 4 – 8mg/L. After the oxygen enriched water filling machine is filled with oxygen, the dissolved oxygen reaches a balance value of 20-60 mg/L. As a beverage enriched water dissolved oxygen is 20 mg/L, 20 mg/L of China's introduction of oxygen rich water dissolved oxygen or similar products produced in the United States. The oxygen enriched water aeration machine adopts the method of non bubble absorption, and is the most advanced production process in the world at present. The utility model has the advantages of compact structure, simple operation and high inlet efficiency, and the utilization rate of pure oxygen is almost one hundred percent
This rich oxygen filling water of oxygen-enriched water can be applied in water, mineral water, beverage, aquaculture, medical, chemical industry etc
Model: 3 T
Dissolved Oxygen: 20-60mg/L
Oxygen pressure: 0.11Mpa
Material: Stainless steel
Electricity parts:imported brand
Pump: CHI2-30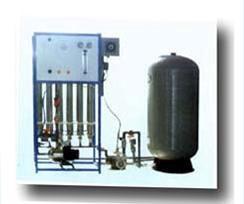 Note:
1. The machine use capillary tube to absorption and increase oxygen content.
2. Processing: the pure water goes through within the membrane, In film outside exert oxygen, Through the diffuse principle will oxygen evenly into the water, No bubble, without volatile, Dissolved oxygen has good stability.
3. The Machine Tubes are made of UPVC, it is cheaper and if use stainless steel, after long time, easy water leakage, so commonly use UPVC materials.
4. The membrane in the tube is the same material with the hollow fibre ultrafiltration membrane-PVDF, the difference is the Aperture size
5. Machine body frame is made by stainless steel.
Packing :
FAQ :
Q:How about the spare parts?
A:We will send one year enough easy broken spare parts together with the machines,shipping together.During the warranty time,we will supply the spare parts with our cost including the delivery fees.
Q:How long time for installation?
A:According your machines order,we will send one or two engineers to your plant,it will take about 10 days to 25 days.
Q:How to install my machines when it arrives?how much the cost?
A:We will send our engineers to your factory to install the machines and train your staff how to operate the machines.Customer pay air tickets go and back,accommodation and USD80/day/person.
Q:When can I get my machine after I paid?
A:Normally production time is around 30-60days,the exactly depend on what kind of machine you order.The shipping time is based on your destination port.
Q:What's your guarantee or the warranty of the quality if we buy your machines?
A:We offer you high quality machines with 1 year guarantee and supply life-long technical support.
Q:Are you a trading company or a manufacturer?
A:We are an Original Equipment Manufacturer so that we can provide you high quality machines in raeasonable price, Welcome to visit us.