Description
600BPH Barreled 20L Water Production Line(QGF-600)
This 5gallon bottle washing / filling / capping machine is for filling mineral water, distilled water and purified water into barreled/bucket/jar. The barrel water drink filling machine works reliably and efficiently based on the compact structure and high automatic technology. This barrel water drink filling machine is the fully automatic barreled water producing equipment combined with machine, electronic and pneumatic components.
Product Description :
This filling line specially for 3-5gallons barreled drink water,with type QGF-100,QGF-240,QGF-300,QGF-450,QGF-600,QGF-900,QGF-1200,It intergrates bottle washing,filling and capping into one unit ,In order to achieve the purpose of washing and sterilizing ,The washing machine use multi-washing liquid spray and-thimerosal spray,This thimerosal can be used circularly,The capping machine can cap barrel automatically ,this line equips with water spraying device in order to ensure those caps sterilizer and clean .it also can automatically carry out barrel ,washing,sterilizing ,filling ,capping ,counting and products discharging ,with complete function ,modern design and high degree of automation ,it is a new kind of barreeled water auto-production line ,which intergrates mechanism ,electricity and pneumatics technologies together .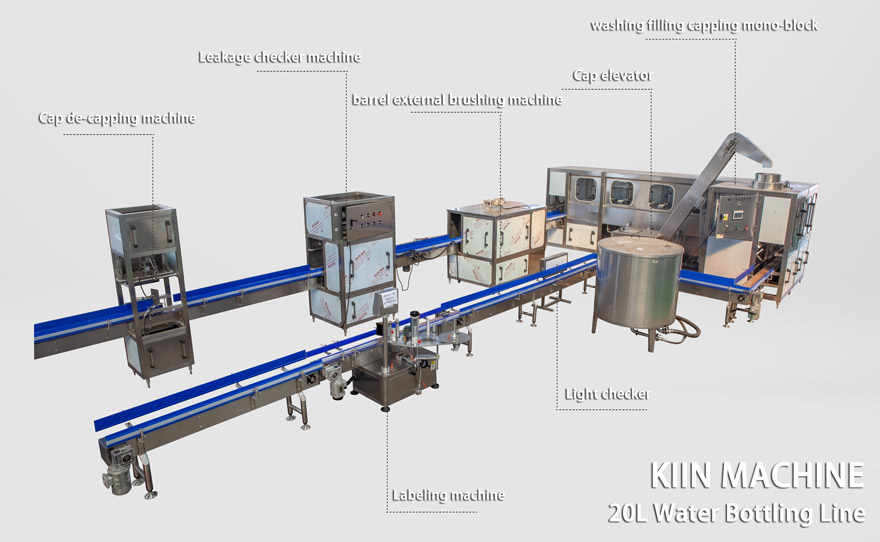 1. It is specially used for filling 3 gallon to 5 gallon) bottled water.
2. It is a good machine line for the all shapes of bottles.
3. The machine is designed for bottles such as PVC. PE. PET etc. It can be used for different shapes of bottles.
4. The machine line with stainless steel rinse nozzles, pressure filling valve, screw capper, hot steam film shrinkage machine top quality line.
5. Filling time is controlled by the PLC.
6. The machine adopts high quality stainless steel frame(No. Z304).
7. The machine design appreance is beautiful, easy operation, maintainence and working stable.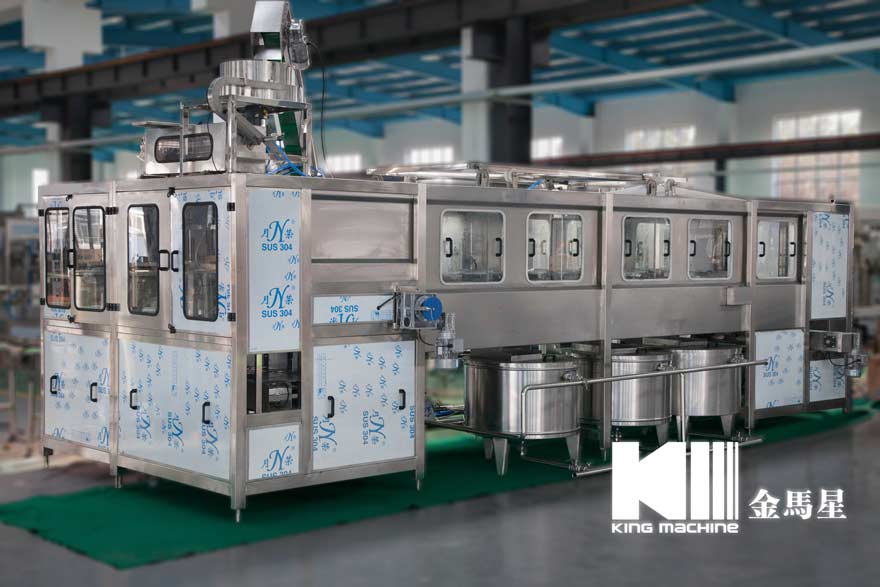 Main Machine Features.
1/Shape structure adopted concave and convex shape, perfect appearance also reduces the leakage.
2/The thickness of the stainless steel plate which used for 600bph is 3mm.
3/Tank and the heating pipe in tank are removable which become more clean sanitation.
Filling Part Features.
1/Uploading and dropping barrels changed from 45 degree to translatory which is more stable.
2/Nozzle can insert into 10-15cm of the barrel in order to rinse little impurities down. Rinsing pump is separately controlled by different magnetic valves. Pump only work when there is barrel on that. It can avoid the mixture of different cleaning fluid.
Capping Parts.
1/Liquid level difference is controlled in 1cm.
2/Machine is equipped with Cap Sterilization system, which is 1.2m. The system make products more clean and safe by using sterilization and finished water.
3/Customers can choose to equip ABB/SEW motor, GRUNDFOS water pump, FESTO pneumatic component.
| | | | | | |
| --- | --- | --- | --- | --- | --- |
| Model | QGF-100 | QGF-300 | QGF-450 | QGF-600 | QGF-900 |
| Filling heads | 1 | 2 | 3 | 4 | 6 |
| Volume(L) | 18.9 | 18.9 | 18.9 | 18.9 | 18.9 |
| Capacity(b/h) | 100 | 300 | 450 | 600 | 900 |
| Gas consumption(m3/min) | 0.37 | 0.6 | 0.8 | 1 | 1.5 |
| Moto power(kw) | 1.38 | 3.8 | 5.6 | 7.5 | 9.75 |
| Weight(kg) | 680 | 1500 | 2100 | 3000 | 3500 |
| Size(W*L*H)(m0 | 0.5*4.0*1.5 | 0.9*4.0*1.5 | 1.3*4.0*1.5 | 1.8*4.0*1.5 | 2.4*4.0*1.5 |
Application :