Description
5000BPH Carbonated Drink 3-in-1 Filling Machine
The machine is mainly used for filling carbonated drink. It combines rinsing and filling and capping as one automatic body suitable for PET or other plastic bottles. The iso-pressure (iso-barometric) filling technology is adopted enabling it to fill more efficiently and more stably with more output than the machine of the same level from others.
Product Description
Advantages :
1.Using the wind sent access and move wheel in the bottle directly connected technology; canceled screw and conveyor chains, this enable the change the bottle-shaped become easier.
2. Bottles transmission adopt clip bottleneck technology, bottle-shaped transform not need to adjust the equipment level, only change related the curved plate, wheel and nylon parts is enough..
3. The specially designed stainless steel bottle washing machine clip is solid and durable, no touch with the screw location of bottle mouth to avoid secondary pollution.
4. High-speed large gravity flow valve filling valve, filling fast, filling accurate and no liquid lose.
5. Spiraling decline when output bottle, transform bottle shape no need to adjust the height of conveyor chains.
6. Host adopt advanced PLC automatic control technology, the key electrical components from famous company such as Japan\'s Mitsubishi, France Schneider, Siemens.
Product Introduction :
Carbonated drink 3-in-1 filling machine 5000bph is mainly applied for filling drinks. It combines rinsing bottle, filling and capping into one machine. The full procedure is automatics. It is suitable for PET bottle and plastic bottle to fill juice, mineral water, pure water, if add temperature control device, even for hot filling. The adjustment for bottle type of each unit is fulfilled by turning handle; it is simple, easy and quick. The filling method applies new micro pressure filling so that the filling speed becomes more quick and stable. Compared with similar machines, it has higher yield, more benefit. The machine applies advance OMRON programmable controller (PLC) to control machine's auto-running, the input bottle chain way changes its speed by frequency converter. Cooperate more stable and reliable. As each unit's running is detected by photoelectric elements. So it has high automation and simple operation. On this basis, changing filling unit can change to low vacuum filling method and isotonic filling method. Low vacuum filling method (Z type machine) is applied for glass bottle to fill alcoholic liquor; soy etc. and the capping method can be aluminum anti-theft cap and plastic cap. The isotonic filling method (D type machine) is applied for PET bottle; plastic bottle to fill CO2 contained drinks. It is the ideal top choice equipment of drinks enterprise.
Containers and specifications
Project Name: 
Full Automatic Complete Carbonated Drink 2000-36000bph Production Line
Carbonated Drink
Material
Shape
Filling volume
Filling level(mm)
Neck type
PET Bottle
Round Bottle
100-2000ml
Distance from bottle neck

According request

As request
Adjustable specifications of the bottle type
Middle Mould Base: Bottle diameter ≤105mm Bottle Height≤335mm
Customers need to buy additional change-over parts for the different bottles.
If using square bottles, then bottle separating system will be added.
Carbonated Drink Preparation
Syrup melting machine, Mixing Machine, CO2 filter, CO2 mixer ….
Container Label & Control Mode
Packaging system
Palletizing system

Hot Melt Roll-Fed

PVC Shrink Label

Full Label/ Half Label

Manual / Automatic

Packing system
Min, Spec.
Manual

Low position gantry palletizer

Robot Palletizer

High position gantry palletizer

Single Arm Palletizer

Manual Palletizer

Manual

Film shrinker

Wrap Around packer

Robert Packing Machine

1*2

2*3

3*4

4*6

3*5

User Ambient Conditions
Temperature:10~40℃;Humidity:No dew
User Electrical Supply Specification
Voltage:380V±5%, 3phase; Frequency:50HZ±1%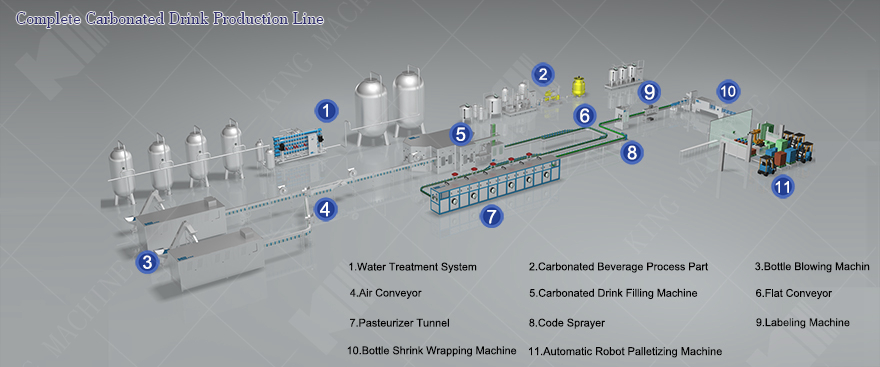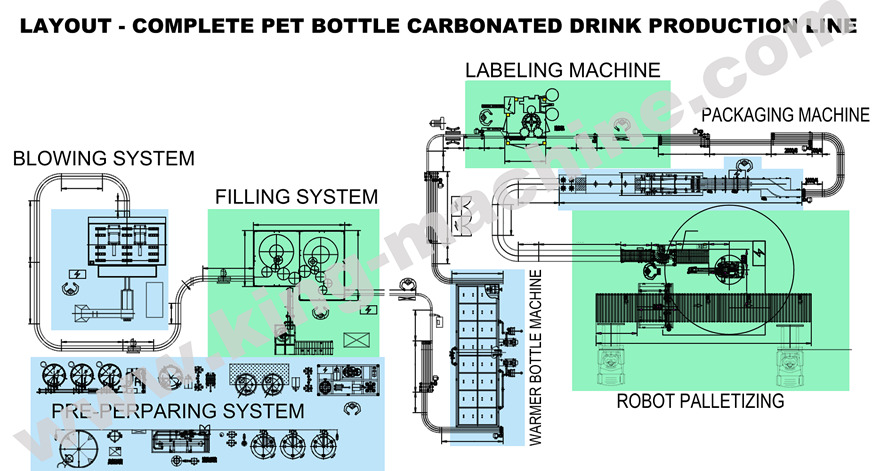 Technical Parameter :
| | | | | | |
| --- | --- | --- | --- | --- | --- |
| Model | DCGF14-12-4 | DCGF16-16-5 | DCGF18-18-6 | DCGF24-24-8 | DCGF32-32-10 |
| Rinsing head | 14 | 16 | 18 | 24 | 32 |
| Filling head | 12 | 16 | 18 | 24 | 32 |
| Capping head | 4 | 5 | 6 | 8 | 10 |
| Power of main motor | 3 kw | 3 kw | 3 kw | 4 kw |  4.8 kw |
| Total weight | 2.8 T | 3.2 T | 3.6 T | 4.5 T | 4.8 T |
| Capacity | 2000-3000 | 3000-5000 | 6000-8000 | 8000-12000 | 12000-15000 |
| Bottle diameter | 50-80mm | 50-80mm | 50-80mm | 50-80mm | 50-80mm |
| Bottle height | 160-320mm | 160-320mm | 160-320mm | 160-320mm | 160-320mm |
| Method of changing speed | Frequency conversion | Frequency conversion | Frequency conversion | Frequency conversion | Frequency conversion |
| Power of unscramble motor | 0.37 kw | 0.37 kw | 0.37 kw | 0.37 kw | 0.37 kw |
| Supply presure of rinsing water | =0.06Mpa=0.2Mpa | =0.06Mpa=0.2Mpa | =0.06Mpa=0.2Mpa | =0.06Mpa=0.2Mpa | =0.06Mpa=0.2Mpa |
Application :
Air Conveyor.
Air conveyor is fixed on the floor, with fan installed on the top.
Air filter is positioned at every entrance of air fan, to prevent dust blown into bottles. Bottles are held on the neck in the conveyor and transported into filling machine by blowing power.
All are made of stainless steel SUS 304 /316.
Rack made by high quality carbon steel welded ,
Pre-process system.
1 High-shear emulsifying tank + Plate heat exchanger
2 Mixing tank
3 UHT sterilizer + homogenizer machine + Buffer tank
4 Hot water system + Hot water tank
5 CIP cleaning system
Water treatment system.
1 Raw water tank + Raw water pump
2 Silica sand filter + Active carbon filter + Sodium ion exchanger + Precision filter + Security filter聽
3 Reverse Osmosis (one level)
4 UV sterilizer
5 Finished water tank + Pure water pump
1/Stainless steel high pressure film shell
2/All kinds of capacity indicator, pressure indicator, electricity magnetic valve, balance device and pipe valve system
3/Online type pressure auto self-protection device
4/Online type electricity indicator (with stable compensation)
5/System safe protecting and alarm system
6/System frame
Blow molding system.
Full automatic blow molding machine is suitable for producing PET plastic containers and bottles in all shapes. It is widely used to produce the carbonated bottle, mineral water, pesticide bottle oil bottle cosmetics, wide-mouth bottle and hot fill bottle etc.
Drink Mixing Machine.
1/Wide range of uses – The system can handle a wide range of products such as carbonated drinks, juice drinks, etc.
2/Easy power adjustment – easy adjustment of mixing ratio without having to replace parts.
3/Structural Hygiene – All parts in contact with fluids are of high quality stainless steel, all tanks are equipped with CIP ball for easy cleaning.
4/Accurate mixing accuracy – product mixing accuracy G ≤ 2%
Warmer Bottle Machine.
1/Mainly for cooling and sterilization
2/The main parts of the machine are made of stainless steel, the top is designed to be openable for easy maintenance and observation
3/Nozzles are manufactured using U.S. technology and spray water evenly
4/Conveyor belt adopts Rexnor technology, flat surface with small wear
5/Smooth and reliable operation with low energy consumption
Automatic labeling machine.
1/Heat shrink sleeve labeling machine
2/OPP Hot melt labeling machine
3/PVC label stick labeling machine
It adopts double driving structure which is a new and advanced driving device for the thermal shrink sleeve machine, that is, four-wheel driving, self-centering and balanced pressure of four wheels. It can achieve the good effect of transmission of labels smoothly, stably and rapidly.
PE film packaging machine.
1/PE film shrink wrapping machine
2/Half-tray shrink wrapping machine
3/Carton box packaging machine
It adopts the photoelectric sensor to detect online, gather signals which are controlled by PLC, and adopts piston as executable element, to realize product conveying, combination, film wrapping, cutting, heat& shrink, cool and finally get the finished product.