Description
10000BPH Automatic Mineral Pure Water Filling Bottling Production Line
1. CGF24-24-8 Water bottling line is 10000BPH
2. Automatic Washing Filling Capping Machine (3-in-1)
3. SS304 stainless steel
4. SIEMENS programmed controller (PLC)
5. ISO9001, CE, SGS, BV, SONCAP
Product Description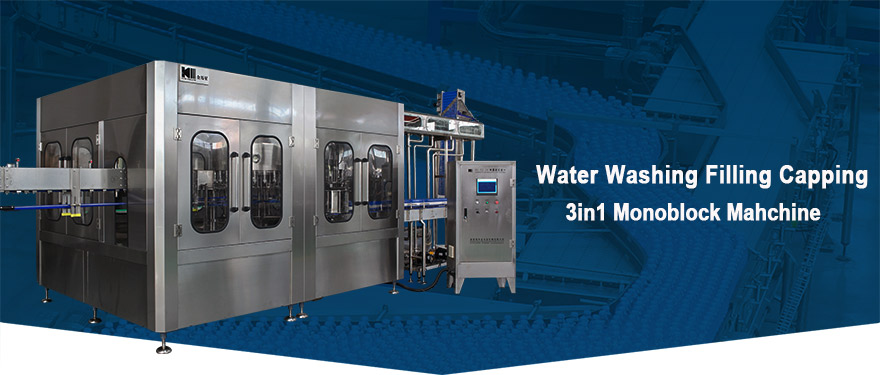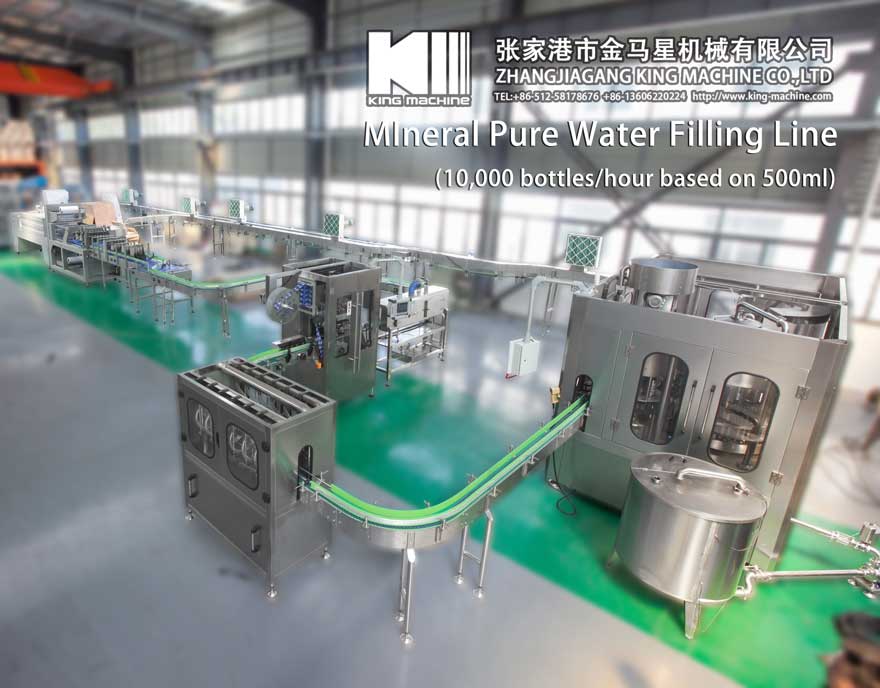 Automatic Mineral Water Bottling Plant Cost
Water is a multifacted product: natural spring water, purified water, carbonated water,flavored water… What process can be used to prevent bromate formation? How to deploy mechanical filling valves to keep water crystal clear and contaminant free? How to achieve the maximum benefit with speed, accuracy and light weight bottles? King Machine, the expert in liquid product filling, will always provide you with the best solution for your products.
Project name :Cost of pure water bottling machine

Model
CG8-8-3
CGF14-12-4
CGF18-18-6
CGF24-24-8
CGF32-32-10
CGF40-40-12
Capacity(500ml bottles)
2000
3000-4000
6000-8000
8000-12000
13000-15000
16000-18000
Suitable bottle shapes
  PET circular or square
Bottle diameter(mm)
  Dia50-Dia115mm
Bottle height (mm)
160-320mm
Compressor air pressure(Mpa)
0.3-0.7Mpa
Washing meidum
Aseptic water
Rinsing pressure(Mpa)
>0.06Mpa<0.2Mpa
Application
Bottle water filling machine
Total power (KW)
4.4
4.4
4.4
5.2
6.2
7.8
Overall dimensions(L*W)
2.3*1.9
2.5*1.9
2.8*2.15
3.1*2.5
3.8*2.8
4.5*3.3
             Height
2.3m
2.5m
2.5m
2.5m
2.5m
2.6m
Weight(kg)
2500kg
3200kg
4000kg
4500kg
6500kg
8000kg
Main Features:
1. Using the wind sent access and move wheel in the bottle directly connected technology; canceled screw and conveyor chains, this enable the change the bottle-shaped become easier.
2. Bottles transmission adopt clip bottleneck technology, bottle-shaped transform not need to adjust the equipment level, only change related the curved plate, wheel and nylon parts is enough..
3. The specially designed stainless steel bottle washing machine clip is solid and durable, no touch with the screw location of bottle mouth to avoid secondary pollution.
4. High-speed large gravity flow valve filling valve, filling fast, filling accurate and no liquid lose.
5. Spiraling decline when output bottle, transform bottle shape no need to adjust the height of conveyor chains.
6. Host adopt advanced PLC automatic control technology, the key electrical components from famous company such as Japan's Mitsubishi, France Schneider, OMRON.